Series: The Surrender Trilogy 1-3

Publisher: Berkley Trade (Penguin)
So, I seriously debated reviewing these books because….eh, not sure I'm ready to admit I read these ? But, whatever. I don't think I can read romance without reading its steamier side and if  I'm hitting the big 50 (Shades of Gray, that is) I want to have some background and context for erotic romance. I chose The Surrender Trilogy because Maya Banks is a long standing author  in the modern romance era and she mentioned on an episode of the Dear Bitches, Smart Authors podcast these books are less nonstop sex and more about relationship building.
I think I may have stumbled upon this romance "crack" I keep hearing about, because I could not stop  reading these.
The books in this series are about  Dominant / submissive relationships*.The series main characters are three close friends with each woman getting their own book. We start with widowed Joss , move to  her sister-in-law Kylie and then finally their friend Chessy.
February 4th  2014
The first book really did not work for me. On the 5th anniversary of her husband's death, Joss decides it's time to say goodbye and seek out the  Dominant/ submissive relationship she's secretly always wanted, but her husband could never give her because of his abusive childhood. To her surprise, she finds her dream relationship in her husband's best friend Dash.
I liked the angle of Joss being a woman in control of her own sexuality, but  these two were kind of dull and there really wasn't much conflict. I feel like I never get a clear picture of what this Dom/sub relationship means. He is supposed to be Dominant, but he still only does what she says. It also felt like Banks was defending BDSM to the reader instead of showing. The only real conflict between the characters  is caused by a dream…which was kind of dumb. – ★★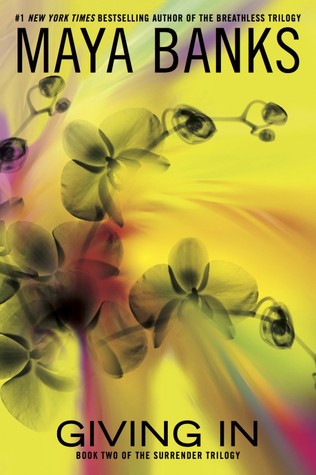 May 6th 2014
After not liking Letting Go, I only got Giving In because the sample in the back intrigued me. This one is about Kylie who is Joss' sister-in-law and comes from the same abusive past as Joss' dead husband.  This has made her "prickly and bitchy" as her friends say but Jensen, the new man in her office sees potential in her both romantically and professionally. I liked this one more, because there was more conflict. Jensen is a Dominant too but he has to give up that side of him for Kylie to feel safe. We also learn he has his own traumatic past, so they have to work together to figure out how to have a relationship. Although once again this dream thing comes up as the climax again and it's even worse in this one than the first one. – ★★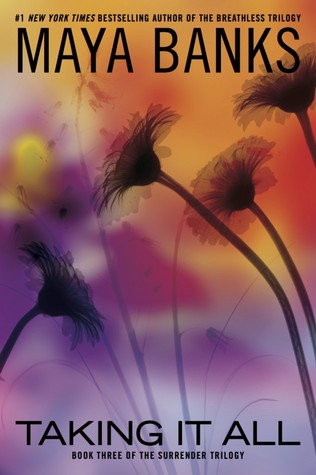 August 5th 2014
Now, I read this last one because there is a hint of something going on with Kylie and Joss' friend Chessy in the background of the other two books and I wanted to see how that was going to be resolved. This book was by far better than the others because the issues going on between Chessy and her husband Tate had higher stakes because they are considering ending a marriage.I felt like this book has the most struggle and conflict. Also, Chessy and Tate are more ingrained in the Dominant/ submissive lifestyle so we see more about what these relationships entail. – ★★★
In Conclusion….
There were a  couple of things in this book I had to get past , the writing in these books left a lot to be desired. A lot of the time characters would use the same phrasing like how I'm pretty sure every character tells Chessy that Tate would "move heaven and Earth" for her. They all say it just like that and it feels really unnatural
This was all my first introduction to the CARETAKER ALPHA MALE and omg, these guys are all extreme alphas. If you so much as trip in a restaurant parking lot they will drive you to their mansions, give you their beds and make breakfast in the morning. This I'm learning is a common trope in romance so if you like the rich, successful guys who take care of their ladies this book has all kinds. It does leave me wondering how in NA turned this trope got turned into the jerk alpha with a heart of gold.
Overall I'd skip the first two, but without those you don't get the building tension of the third books. So I'd recommend the last two
I noticed that the owner of the BDSM club "The House" showed up a lot and it looks like he is the main character of the Rush series….which I have no desire to read, but for people who like those characters they show up.
*This capital D dominant and lowercase submissive is the style the book uses so when in Rome….